Aurora Ipsilon Satin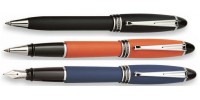 Aurora Ipsilon Satin
Among the Aurora Ipsilon series the "Satin" is the most economical. Weight and dimensions are the same as the "ipsilon resin" version, but the finishes are chromed and the body has a satin finish. The Aurora Ipsilon Satin line includes a fountain pen, a roller and a ballpoint pen (there is no pencil). The fountain pen has a chrome nib and works with cartridges or converters. The roller has a hood with a snap closure. The ballpoint pen works with a pressure mechanism.
Showing 1 to 9 of 9 (1 Pages)