Graduation pens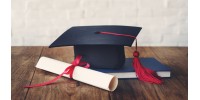 Graduation pens
The moment of graduation marks a very important step. It concludes not only a cycle of studies but a period of life that must somehow be sealed with an object destined to remember him year after year. One of the most popular gifts to celebrate the graduation of a friend, a child or a family member is a pen.
But what is the right graduation pen? Surely, the one that will help him in his work or studies if he wants to continue, that will reflect his style and that will best adapt to his habits.
For a sophisticated person, who appreciates refinement and who always wants to be impeccable, a fountain pen will be perfect. For a creative soul, for those who appreciate practicality above all things, choose instead a ballpoint pen, simple and immediate to use. We also recommend that you personalize your gift with the engraving service, remember that the most elegant choice is always to engrave the recipient's initials.
Take a look at our shop and you will surely find the right pen for a graduation gift.
There are no products to list in this category.