Kaligrafica Pens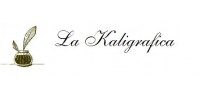 Kaligrafica propose writing items made from the best workshops in Italy. By combining technical skills and aesthetic taste, making use of the work of skilled engravers able to bring the charm of a timeless art.
Kaligrafica is a solid company where modern entrepreneurial skills perfected a successful product from ancient history.
Feathers, pens, inkwells and fountain pens: all products in which the Kaligrafica has specialized over the years and that pay tribute to the taste and sophistication of those who believe that the gestures of a writing intimately designed must be accompanied by an object that reflects the fair value.