Leonardo Pens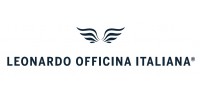 Leonardo Officina Italiana
The art of creating and producing tools elegant and innovative writing is handed down from father to father son and has lasted for more than 45 years. From this experience and passion is born Leonardo Officina Italiana.
Ciro Matrone, father of Salvatore Matorne co-founder and CEO of Leonardo, he led the historic Delta brand for 36 years.
Today, Leonardo Officina Italiana, continues and expands the tradition in the world of fountain pens and not. This means creating pens that pay homage to filling systems, materials and traditional techniques Vintage. Each pen is made using materials carefully selected as ebonite, wood, resins and precious metals. Produced exclusively in Italy, Leonardo pens are the result of one effort to differentiate the brand globally.
Every pen Leonardo has a soul and transmits the warmth that only those who truly love this world has the possibility of giving.
Leonardo Workshop Italiana illuminates Italian art making it innovative and modern but without forgetting the historical heritage from which it comes.