Pen Fisher Space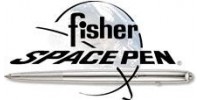 The most popular Fisher pens are : FISHER BULLET, FISHER ORIGINAL
Paul Fisher developed his pressurized Space Pen refill more than 40 years ago, at the time of the'' space race'',when astronauts began to fly used ordinary pencils. The lead of these pencils could easily break causing danger, when the detached part floated into the cabin in zero gravity. It was necessary a writing instrument more secure and reliable, the Fisher Space Pen. The development of the Fisher Space Pen took more than a million dollars in 1965 until Paul Fisher developed the first successful pressurized refill.
Fisher is characterized by the search for materials and chemical formulations constantly advanced to allow writing even in extreme conditions.
All the FISHER SPACE PENS allow to write - with the tip pointing upwards - under water - on grease - up to 150 ° - these new methods have allowed the development of a writing instrument capable of operating even in the absence of gravity. The technology of Fisher has enabled the design and realization of a refill with a length of writing 15 times greater than a normal charging and that retains the ink efficiency even after 100 years! These features allow Fisher pens to be used by American and Russian astronauts.